There's No Time For Monkeying Around: How Managers Can Delegate More Effectively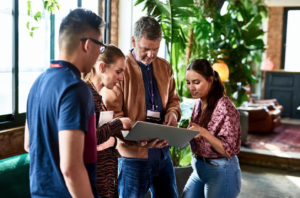 I wish there was a more delicate or polite way to tell you this, but there isn't: If you want to be a successful manager, you're going to have to learn how to get those monkeys off your back!
Of course, I'm not talking about an actual animal, but rather problems and decisions. And those cute but pesky primates are the perfect metaphor because monkeys are curious and temperamental by nature, and boy are they clingy. They can gang up on you in a hurry!
If your directs are used to passing their monkeys on to you, the only person to blame is you. In other words, don't accept the monkeys. However, I recognize that for many, this is easier said than done.
The reason you're in a leadership position is because you have proven that you can manage a situation, a team and any circumstances that might infiltrate your arena of business acumen. Therefore, you might jump at the opportunity to help solve problems, but this can be detrimental to everyone involved.
In his book Shifting the Monkey, Todd Whitaker writes, "You can easily handle your fair share of normal monkeys, as long as you feel valued and supported. But you can just as easily become overwhelmed when you get stuck shouldering other people's inappropriate monkeys. Some monkeys simply shouldn't be your problem. Anger Monkeys, Guilt Monkeys, and Attack Monkeys are just a few of the monkeys people use to shift their burdens to others."
Early on in my career, I suffered from an abundance of monkeys. I was dealing with ensuing public relations problems with the other units in the division, was expected to complete my work and merge two very different teams into one cohesive unit. I also had 14 employees reporting to me from eight different locations and was constantly inundated with phone calls.
My direct reports expected me to fix every problem, both real and imagined. Most of them didn't know any better. They had been "trained" by my predecessor to call with their issues at all hours.
In his article, "The Art of Managing Monkeys," Ken Blanchard outlines four rules of monkey management. I've found the rules to be a helpful tool in giving executives the ability to refuse and return monkeys without being accused of buck-passing or abandonment. Here's how I apply them and advise others to do the same:
1. Label the monkey. Define its parameters and specifically outline the next steps that need to happen to care for the monkey. Let the new owner ask questions. Having an employee agree to take the monkey because she thinks she has no choice isn't effective.
2. Allocate the resource(s) to handle the monkey. The monkey should be assigned to the lowest organizational level reasonably equipped to handle it. Minor monkeys shouldn't be allowed to climb up the administrative ladder.
3. Assure the monkey will be handled. When you divest yourself of a monkey, you can't just drop it on a desk with no instructions. It's imperative you ensure it will be taken care of — make a plan, get buy-in from the monkey owner-to-be and proactively put in place consequences if the monkey isn't handled in a proper and timely manner.
4. Confirm the monkey is healthy and thriving. Check in with the owner to monitor the progress on a regular basis. This doesn't mean pestering the employee who now owns it; it means taking the time to confirm progress is being made.
I found that with a bit of encouragement, and a firm explanation of why a particular monkey was assigned to them, my employees started to change. They began to embrace their responsibilities and were motivated by their own successes in problem-solving. It took time, patience and understanding, but eventually, they realized my days of taking care of monkeys that weren't mine were over. Not only did their morale increase, so did mine. I was once again invigorated because I was being challenged by my assignments and was no longer performing tasks I had outgrown. I wasn't constantly interrupted to act as a referee, a psychologist, a technician and a peacemaker.
The ongoing development of a more independent team means that everybody wins. When each member understands their role, their duties and their responsibilities, "the machine" runs more smoothly. If you teach people that their team members are some of their most valuable resources, you give them the tools to gain more knowledge than they could ever get by just working alone. If you teach people the skills of how to obtain the answers they need, you'll free yourself up to be available to help them when higher-level issues do arise. You'll also be able to help in a sincere, mentoring way because you won't be exhausted by all that monkeying around.
Monkeys, monkeys everywhere! Don't you have enough to do? Isn't there enough on your plate? Get those monkeys headed in the right direction and everybody wins.