Empowering Middle Management Superheroes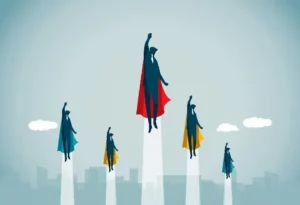 "Middle management" seems like a humdrum and antiquated term, yet these business roles are often unsung company superheroes with the power to decrease employee burnout, empower and maintain intelligent and hard-working team members, create lasting interdepartmental connections, translate and implement company-wide decisions and ultimately increase a business's bottom line. They are the "Clark Kents" of the workplace—with a superhero suit hidden beneath their business attire.
Unfortunately, over the past few decades, the term "middle manager" has developed a negative connotation. Zahira Jaser, deputy director of the MBA at Sussex Business School, sadly reports that even MBA programs have traditionally glorified "leaders" and executive-level workers while simultaneously dismissing middle management as mere administrators. "The idea of middle managers as unexceptional, mediocre supervisors has been around for decades. …These ideas are still central to what's taught in many MBA and executive development programs, where there's a tendency to educate managers on how to 'upgrade' and become leaders," Jaser reports (registration required).
However, this negative stereotype needs to change. The future of thriving businesses depends on these key players. Jaser's experience and research taught her that "the division between leadership and management increasingly sounds anachronistic, even obsolete. It is time to reunite leadership and management in one concept, and recognize middle managers as connecting leaders." Their work is of vital importance in a successful company and needs to be valued as such.
Other experts agree. More research is being poured into the power of middle management and its future. In a McKinsey and Company interview, authors Emily Field, Bryan Hancock and Bill Schaninger discuss the current model of middle management in many companies and how it needs to drastically change to support the changing needs of the workplace. Hancock explains, "Over the past 20 years, managers have increasingly been asked—and increasingly valued—not for their management but for their individual-contributor work. And given the complexities of the future of work, we need to flip that around. We need to get managers back to managing."
He also shares the surprising statistic that "middle managers are spending less than a third of their time on people management." They are being asked to complete mountains of administrative work and create and implement plans based on top-made decisions, which eats up their time and takes away from managing teams. However, with the Covid-19 pandemic, remote workers and the Great Attrition, people management is of greater and greater importance in decreasing burnout, identifying quiet quitting and maintaining high-functioning teams.
C-suite level execs can prepare and adapt to the changing needs in their company and set middle management up for success with soft-skills training to better manage and communicate with their teams.
Executive leadership should also check in for burnout. Middle management can encounter a lot of pressure both from above and below. Stave off burnout by asking questions such as:
• How much time are you spending on each of your tasks?
• Do you feel that you are allotted the time you need for each responsibility?
• What are your thoughts on the workload?
• How much time are you dedicating to administrative jobs?
• Do you have any suggestions for how we can support you?
• Are you receiving enough information from me to help communicate top-level decisions to your teams?
Routine check-ins with middle managers are a crucial way to show that they are valued and supported. Consistent evaluations of their responsibilities and job expectations might reveal a workload that is not feasible. Together, executive and middle management may need to redefine and update the role to reflect achievable work goals and productivity markers. Clearly defining expectations is a major win for a middle manager who probably feels pulled in many directions and is unclear on what the priorities are.
Lastly, be sure to include "people management" and "talent development" as criteria in their annual evaluations. Roles such as director and senior manager should spend a lot of time managing their people—communicating ideas, training teams, developing relationships across departments, etc.—and those crucial tasks should be treated as such in their evaluations.
It's time to change the narrative and start empowering middle management again. Investing in employees at every level contributes to the health and growth of a company. The work can sometimes seem invisible and unappreciated, but the work they put into their people ultimately contributes positively to the long-term success of any business.
This article has previously been featured on Forbes