How Drama Can Revitalize Your Meetings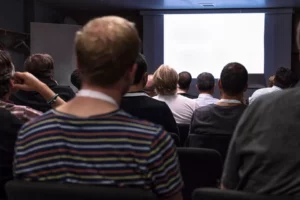 Be honest with yourself—when a meeting invite pops into your inbox, do you have a visceral reaction? Do you groan inside and start immediately thinking of excuses to get out of it? Or do you get excited about the topic and start planning your talking points? If your answer is the former rather than the latter, then you are most likely suffering from the all-too-prevalent "death by meeting" syndrome. In that case, it may be time to add a little drama.
In his book Death by Meeting: A Leadership Fable About Solving the Most Painful Problems in Business, business leader and author Patrick Lencioni advocates for a revolution in the way executives run meetings in the workplace. He reminds us of the vital importance of meetings and communications for the well-being and innovation of a company and advises teams to revitalize their meetings through healthy conflict. Surprising counsel, but effective.
Lencioni likens meetings to the plot of your favorite TV show or movie. Without hooking us in from the very beginning with intrigue and drama, we lose interest immediately. Likewise on a workday, if a meeting does not intrigue us from the get-go or hold our interest for very long, we zone out and lose valuable time. How can we add drama to a meeting? Lencioni talks about "illustrat[ing] the dangers of making a bad decision, or highlight[ing] a competitive threat that is looming." To sum up, give the participants a reason to care and tune in.
Conflict in meetings is not always an easy undertaking. It helps to remind all meeting attendees beforehand of the shared goal and objective of that conversation. Also set parameters that require mutual respect and define each participant's role in that meeting. In an article (registration required) aptly entitled "What Is an Effective Meeting?," McKinsey and Company define four principal meeting roles: decision-makers, advisers, recommenders and execution partners. With clear roles, meeting parameters, rules and objectives—key ingredients for a successful and productive meeting—the path is cleared for healthy conversation and debate.
A bit wary of adding conflict into meetings? Worried that conflict might spill over into other aspects of the office culture? Honoring my love of Italian food, I'll use a cooking analogy to explain how to keep the drama contained in those meetings.
Imagine you are throwing a dinner party and making spaghetti—a large amount of it. If you use your four-quart pot, the spaghetti is going to spill over the sides and make a mess that you'll have to clean up. It will spill over the pot, drip down the sides of the stovetop, between the cracks of the counter, and fall on the floor, where the dog may step on it and track it all over the house. It may create a mess that takes hours to clean up; it may even be impossible to completely wipe up every drop of spilled tomato sauce. The same thing happens when you use your eight-quart pot. Now imagine making pasta with the extra-large 12-quart pot. The pasta does not spill over. It is contained. You still have a mess to clean up, but it is contained. All the pasta sauce and remnants of spaghetti stuck to the bottom of the pot are easily removed and cleaned so that it can be used again for the next dinner party.
Meetings with specific parameters, well-defined roles for participants and a clear goal act as that 12-quart spaghetti pot. Within the four walls of that meeting, it may get a bit messy with lively conversation and a bit of drama that will revitalize the company. And once the meeting is over, the "mess" is easily cleaned up.
In business, as in life, tough decisions need to be made. Healthy debate is the best way to make well-informed decisions and innovative choices. Try utilizing Lencioni's drama-driven strategy paired with clear meeting parameters, and you may find renewed energy and enthusiasm when the next meeting invitation arrives in your inbox.
This article has previously been featured on Forbes