Embodying Corporate Culture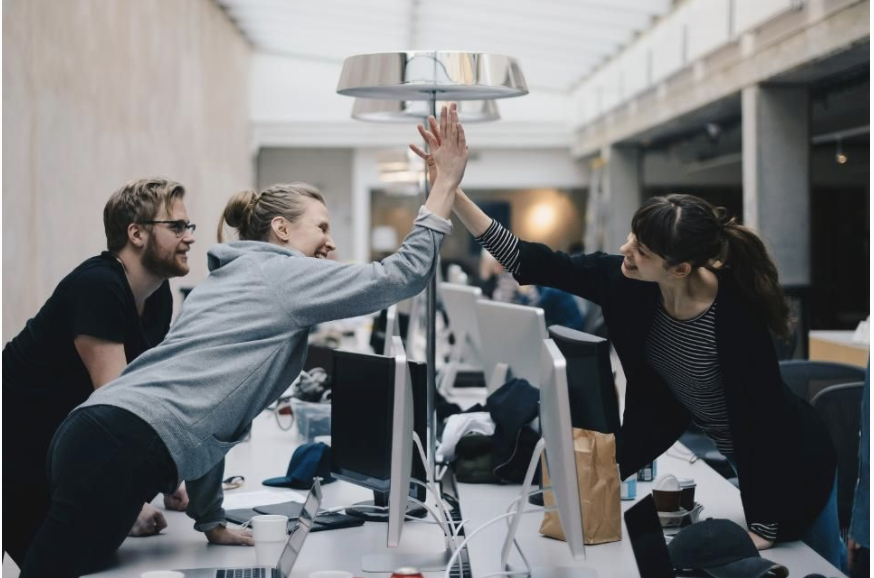 It's easy to cover the corporate break room and hallways with bold statements and inspiring pictures and then claim your corporate culture is not only alive and well, but thriving. That may go over well in an executive planning meeting when discussing inexpensive ways to rally the troops. But does it actually provide any motivation to the groups on the front lines of everyday business?
The short answer is no. If your company thinks something that simple equals "mission accomplished," I encourage someone from executive management to walk the halls. Simply observe the rolling eyes and shaking heads of the general population while they try to eat their lunches, and the ineffectiveness will be readily apparent.
In the book Culture by Design, David Friedman explains, "It's not simply posting the vision and mission. It's about what you and your leadership team are teaching your people day after day after day. And if you don't know what you're teaching because you've never defined it clearly enough, you're not likely to be able to do it very effectively, and certainly not very consistently."
Learning to embody your company's corporate culture — to live and breathe it with sincerity — takes a genuine commitment. If you don't practice it every day in what you say and what you do, your employees notice.
Corporate culture must be supported by a strong foundation of staying true to your stated principles and the way you do business — not when it's convenient, but most especially when it's not convenient. It must guide your business decisions and show that from the C-suite down, your corporate culture is the guiding force behind your organizational ethics.
Authors Edgar H. Schein and Peter A. Schein in their book The Corporate Culture Survival Guide describe it this way: "Culture is not a function, a result, a lever, an outcome, a tool. Culture is the multifaceted learned structure and practice of the people who lead and people who follow, people who work together and build a history that shapes the future."
Your consistently reinforced core values should ultimately define your business. They should impact every aspect of hiring, the employee review process, the reward structure and even the disciplinary process.
If the application of your core values and corporate culture are confusing, dysfunctional and haphazard at best, you will find that the gaps between what you desire (the stated culture) and the actual behavior (the cultural reality) are deep and wide. Inconsistency is the enemy of efficiency.
However, when the corporate culture is organic and rooted in the goals of the organization, its approaches to customers, employees, investors and the community at large will be systemic. The shared beliefs, approaches and values create a sustainable model, especially when the desired qualities are consistently exhibited by upper management.
According to Gallup's State of the Global Workplace report, "Only when employees know what is expected of them, have what they need to do their job right, are a good fit for their role and feel their manager has their back will they feel invested enough to connect with proclamations of mission or values — no matter how inspiring these might sound in the head office."
One of my colleagues, Val Williams, MCC, offers this advice to aid in maintaining corporate culture during times and situations that require employees to work from separate locations. "Identify the top three descriptors of your culture and ask your people to brainstorm with you on how to demonstrate those aspects of your culture to each other virtually." Let them know it's important to preserve this valuable driving force even during intervals of change.
It's important to keep the core values you expect your employees to live — day in and day out — in sight. They need to have constant reminders of the principles the organization stands for to bolster their alignment with these ideals. Corporate newsletters and visual reminders, such as company swag awarded for living the values and demonstrating them at every opportunity, are as important as engaging, uplifting communications from the C-suite.
All the uplifting corporate culture bullet points and core values mean absolutely nothing if your employees aren't empowered to embody them equally. If the management team is trusted to make executive decisions when the situation demands it, but the customer service agents and mailroom employees aren't, then those platitudes aren't anything but pieces of paper on the wall. Display the courage it takes to ensure you align what your organization cares about with the way your organization is run.
Jodi McLean, in her post "Corporate Culture Case Study: Do Your Employees Embody Your Corporate Ethos?," speaks on empowering her employees to make emergency decisions that align with the company's core values by providing them with the tools they need in advance. "It may not always be the right decision in hindsight, but our corporate culture embraces decisive actions made with aggression, and we are never penalized for the wrong decision made for the right reasons."
Can your organization make the same claim? Take a leap of faith. If you've done everything possible to exemplify every aspect of your corporate culture with honest effort, believe that your employees are willing to step up and demonstrate those principles as well.
___________________________________________________________________________
This article has previously been published on Forbes.