Change Is Possible: It All Starts With You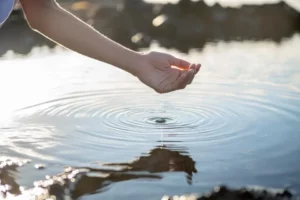 One of the most rewarding aspects of my work as a leadership coach is to witness change that stems from the actions of one individual. Widescale change often starts small.
Imagine a still pond. From the outside, the bucolic scene seems peaceful and serene. The quiet water above looks tranquil, and below the fish and other creatures are darting to and fro, eating and living their lives without making much of a splash at all. Appearances can be deceiving, though. Without movement and a constant inflow of water, that pond will get stagnant quickly.
Stagnant water is full of bacteria and parasites that can harm wildlife and the quality of their habitat. Unfortunately, companies can be like those stale ponds. From the outside, everything looks fine, but savvy leaders can identify the business and cultural aspects that are lifeless and in need of change.
Just as a pond needs inflow from a stream to stay healthy, businesses need new thoughts and ideas in order to survive. The incoming stream of change does not have to be fast or strong; however, it does have to be steady, consistent and effective enough to move the water around a bit. Especially in today's fast-paced business environment, motionless companies will not last long in a competitive market.
The pond analogy is one way of explaining how important change can be to the health of a team. As a leader, it is your responsibility to make sure that positive change happens. It all starts with you.
Admittedly, it can be overwhelming to imagine momentous change all at once. The task can seem herculean and impossible. However, starting with small steps to reach achievable goals is the best path forward. Returning to a different pond analogy, throw even the smallest stone into a still pond, and you will see a ripple effect. Massive change can start from just one person.
For example, one of my executive clients was struggling in his relationships with the C-suite of his company. As CEO of a startup company, he is an energetic personality with smarts and plenty of ideas. He could not understand why his peers and direct reports did not respond positively or with equal vibrancy to his communications.
After evaluating several emails, we discovered that because of the abundance of his ideas, he often wrote short and to-the-point messages to convey them all. While concise emails have their place in business, they are not always the best way to introduce new thoughts that require more in-depth explanations and back-and-forth brainstorming. It was poor communication. The recipients of the emails felt confused, bossed around and uninvolved. They interpreted the messages as directives that seemed to come from nowhere as opposed to the quick idea that the CEO had hoped would spark conversation and enthusiasm.
After making this discovery, the CEO worked on improving his communications in that one area. He knew that change needed to start with him and began beginning his emails with "Just had a thought" and ending with "What do you think?" or "Would you like to meet to brainstorm with me?" By making this simple change of adding an introductory sentence and finishing with a request for their honest input, he radically improved his relationship with peers and employees. They began to show equal excitement for new ideas and worked with him instead of resisting. They began to understand their CEO, felt involved in his process and developed confidence to have more open communication with him. The business benefitted from the change, and work was much more enjoyable for everyone involved.
No doubt you see areas for improvement and growth in your own team. No matter where they are, change is possible—and it all starts with you.
This article has previously been featured on Forbes