Make The Most Of Your Next Performance Review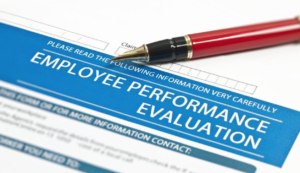 Is it that time of year again? How did the months roll around so fast? If you've taken last year's performance review to heart and made progress toward your goals, you're probably feeling like you're in a pretty good place. However, if you've failed to prepare for your performance review, you may be anticipating it with dread.
If you want to get ahead of the game, here are a few ways to prepare so you can walk into your next appraisal feeling confident and self-assured:
The easiest place to start is with the performance goals you've agreed upon in the previous year's review. Take the time to study them and write out a plan to make them a reality. They're not going to magically complete themselves.
You may be working very diligently, but are you working on the things that matter? The things that are going to advance your career? If you find yourself consistently spending the majority of your time putting out fires, you'll be getting nowhere fast.
After mapping out a plan to meet each of the major goals you were tasked with, ensure that each separate plan contains well-thought-out steps (and sub-steps if necessary). Keep these where you can review them daily and note your progress. If you find that you aren't making much headway on a particular goal, review your steps. If you need to make some course corrections, do it. Don't let your plans go by the wayside. Don't be afraid to ask your manager or your mentor for assistance or clarification.
Log Your Accomplishments
Over the course of the year, keep an accurate log of your accomplishments, and then try to qualify and quantify them. It's not very impressive to tell your boss something like, "I did much better this year on managing the production of widgets in my department." However, if you say "By modifying the widget-making process in my department, our production rose by 7% this year with no extra manpower," it really carries some weight.
Now that you've spent the year tracking your progress, it's time to compile it in a format that your boss will appreciate. Everyone has their own method of processing information. If your manager isn't a detail-oriented type of person, don't overwhelm them with minutiae; just hit the high points and report the most important facts and figures.
Develop A Communication Strategy
If your manager prefers more frequent updates, send the information monthly or weekly as they prefer. Your boss is busy juggling multiple things, just as you are, so don't complicate their life by giving them information presented in a way they don't want. Clarity is your friend and you want to make an impact here, so do your best to illustrate the value you bring to the team and the company.
I've seen this issue again and again in my work. Instead of communicating the information in a way the manager wants, the employee stubbornly continues to submit information in a format the manager finds annoying, uninteresting or over-explained. Then, the employee wonders why the boss doesn't offer any input or praise.
If you report to someone who is fairly uncommunicative throughout the year, the responsibility of requesting periodic feedback is up to you. It's not at all productive to spend an entire year focusing on one goal when at review time, you find out that objective was the least important one to the person who manages you.
The University of Northern Iowa Human Resource Services department writes, "Supervisors should discuss positive performance and areas for improvement throughout the year. However, it is in the employee's best interest to open up a discussion about performance during the year, even if the supervisor does not initiate it. The sooner employees know where they are with regard to performance, the sooner priorities can be shifted or problems can be fixed. Communication is a shared responsibility."
If your boss is constantly busy and not a naturally communicative person, you may have to ask when you can schedule some time to meet — whether that's at regular intervals or on a more sporadic basis. Use that time to ask brief, but important questions, but don't let your attention wander or get off track. You should respect your manager's time.
Address Your Challenge Areas Throughout The Year
Ask for clarification on any assignments you're struggling with. Confirm that you're on track for the year and ask if there is any specific area in which you need to improve. If they do offer you advice, take it to heart even if it's something you don't feel is worth doing. Making amazing progress at something just because you're good at it will not help you at review time, especially if it isn't something you were supposed to focus your attention on.
If you run into an important issue during the year, bring it up and ask for assistance. No one wants to listen to an employee who's just venting. Come prepared with possible solutions and an open mind. Actively listen to any suggestions offered to you and act on them.
Preparation Is Key
During your next performance review, come prepared. If any improvement is suggested, don't be defensive about it. See it for what it is — a chance for you to improve. Be open to new opportunities. If your manager suggests you should take on a task that they have been performing, take it on with a willing spirit. You can't grow into a higher position if you're not willing to stretch. If no new opportunities are presented, take the initiative and ask what more you could take on to help the organization.
Your annual performance evaluation is your golden opportunity to showcase everything you've done during the last year, so develop the habit of tracking your accomplishments in order to make the best of it.