Not All Collaborations Are Created Equal: How To Manage True Teamwork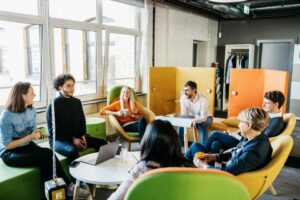 As the saying goes, "Two heads are better than one," but paradoxically, there's also such a thing as "too many cooks in the kitchen." Collaboration is an integral part of an effective workplace environment, yet in many teams, the idea drudges up intense feelings of dread and frustration. In those cases, employees are reliving past experiences of collaboration gone wrong.
There are several ways that managers can guide these essential projects, starting with clearly defining what the collaborative effort entails.
Defining Collaborations
Group projects vary widely based on industry, company size and department. Yet all teams must undergo collaboration for the company to thrive. Where some organizations succeed and others fail is correctly identifying the objectives and characteristics of each collaboration. Recent survey findings from McKinsey break down collaborations into three main overarching categories: decision making, creative solutions and coordination and information sharing.
Decision-making projects are ones that require collaborators to meet virtually or in person to arrive at a clear decision, whether that decision is responding to a specific question or to more generic routine decisions and processes. These types of conversations revolve around yes or no decisions or creating a streamlined process for a routine project.
Creative-solutions collaborations involve brainstorming sessions for more out-of-the-box thinking to unique and new challenges an organization may face. Often the objective of these projects is to conceptualize solutions to present to the final decision-maker.
Information sharing is a task most employees undertake daily. Whether it's a presentation, an email, a memo or a town hall, this collaboration requires one or two parties to communicate information to one another in a clear and concise manner.
Managing Collaborations
Here are some ways to successively manage an effective collaboration:
1. Clearly define the roles of each person and their contribution to the final objective. In decision-making projects, many teams believe that individuals have an equal amount of say. Yes, we want to empower employees to use their voices and contribute value where they can. However, the leader must communicate the role of the participants from the very beginning. If a teammate believes that their voice holds more weight than it does, they may feel disgruntled at the misunderstanding—and rightly so.
2. Lay out the value a collaborative project may have compared to individual responsibilities. This knowledge will enable employees to prioritize their workload and allocate the right amount of time to a project without feeling burdened.
3. Decide upon pre-arranged parameters for the meeting. What is the time limit? What are the objectives of the meeting? Who gets to speak and when? Who should participate? Collaborations require communication, and running structured meetings increases productivity and reduces the risk of wasting valuable time. Also, by looking at the objective of a meeting, managers can decide if their participation is necessary or if they can step away and focus on other projects.
4. Assign roles based on experience and interest.Encouraging employees to take on responsibility for projects that skew to their natural talents and curiosity can spur initiative.
5. Ask participants to send short Monday emails. Request bullet points communicating their tasks and goals for the week. In doing so, the leader can take a big-picture look at the team's progress and redirect if need be. These plan-oriented emails are much more effective than Friday progress reports and can prevent wasted effort.
Graduates of our leadership courses implemented these strategies with their organizations and shared positive feedback about how they have effectively course-corrected projects and inspired participants to see collaborative efforts in a more optimistic light. We encourage you to evaluate your own team's interactions, implement any needed changes and see the difference for yourself.
This article has previously been featured on Forbes